Growing up in Medan, Asian Agri always played a presence in Egia Pranata Ginting's life.
"When I was in elementary school, I often accompanied my parents to the center of Medan for shopping. I often passed by in front of the Uniland building and wondered what was actually inside. My father said that there is a plantation company called Asian Agri," he explained.
Finally, the Brawijaya University graduate had the opportunity to take part in Asian Agri's recruitment processes and was accepted to study at the Asian Agri Learning Institute (AALI) for six months.
With strong determination and willingness to develop himself, Egia managed to graduate second in the Estate Assistant Trainee program.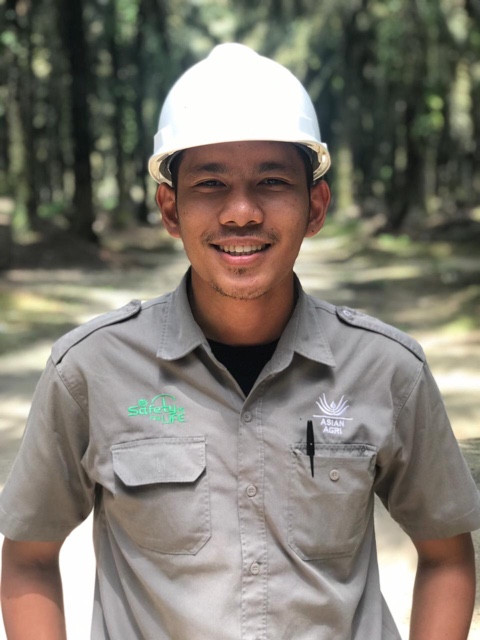 "In my opinion, the most important thing is to be a person who is detail-oriented and curious. After studying at AALI I came to understand that in fact machines and plants are equally dynamic. Agriculture also has many techniques that can be developed and modernized. I also didn't expect to get second place. One thing is certain, if our efforts are maximized, the results we get will not betray our efforts," explained Egia.
Between his activities at AALI, Egia always took the time to read in the library.
"At night, I often took the time to read, sometimes in the library, sometimes the material modules that I will learn the next day, so I already know what I want to
ask from the material provided if there are things I don't understand. I am always ready to empty my glass and refill it with new water so that I can grow," said Egia.
After graduating from AALI, Egia was assigned to Segati Estate to handle Afdeling 2, where he has been working for the past four months.
For Egia, joining Asian Agri is something he is very grateful for.
"I was given a place to grow, a place to learn, and was taught the teamwork spirit," said Egia.
Even though he is still young, Egia is very wise in dealing with everything he faces. "In doing anything, discipline is the key. If we can be disciplined and manage ourselves well, then we can certainly manage other people," he concluded.
{loadposition click_here_join}
{loadposition career_related}