Consistent delivery of high-quality and sustainable products for the sustainability of our business
For more than 43 years, Asian Agri has developed an integrated strategy aimed at producing and processing oil palm products of the highest quality. This strategy is founded in complete adherence to the strictest sustainability requirements. We believe that upholding sustainability practices across our operation will not only contribute to environmental protection, positive social impact, and national food security, but will ultimately secure our business in the long run.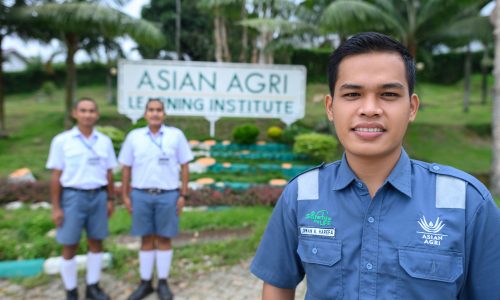 Asian Agri strives to optimize the potential of oil palms to ensure continuous supply to the market. Compared to other agricultural commodities, oil palm offers optimal yield and efficient land use. It produces 7-10 times more yield than other edible oil crops. This is done through continuous effort to increase our productivity in a sustainable manner.
Traceability and Sustainability
We are committed to ensuring 100% sustainability across our supply chain. In line with our Sustainability Policy, our products are well documented from the plantation to the consumer's door to ensure optimal traceability. Our third-party suppliers, including independent smallholders, are required to provide legal documentation on the source of their FFBs to support the eradication of forest and protected area encroachment and illegal oil palm plantations. In 2017, 100% of our smallholder plantations in Riau and Jambi have been RSPO-certified. All plantations, including those owned by smallholders, have been certified by the ISCC. Since 2018, Asian Agri has been a member of SUSTAIN Palm Oil Alliance, which aims to improve traceability in palm oil production and accelerate the implementation of NDPE policies across supply chains.
Our production strategy takes advantage of a wide range of natural conditions that makes Indonesia one of the most ideal palm oil producing areas in the world. This tropical plant thrives at about 10 degrees north and south from the equator, where Sumatra is located, which is complemented by fertile soil and an abundant workforce. We also hold our third-party suppliers to the highest standard of quality. We provide a 4% incentive for smallholders who produce quality palm fruits that meet the international certification standard RSPO.
Indonesia's palm oil industry employs more than six million workers and attracts 5,000-6,000 new workers every year. Asian Agri continuously strives to elevate the quality of the industry's human resources through our training programs both for the employees in our plantations and for our smallholder partners. We also put a heavy emphasis on sustainable practices to produce environmentally conscious palm oil workers that are able to compete in the international market.